Celtic Speed : The Cars
Endurance Rally
1938 Fangio Chevrolet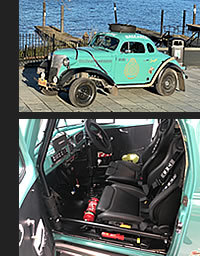 Pre-war American Coupes became the main stay endurance road race and rally weapons across the Americas in the forties and fifties. Eight decades later they still roam the earth as predatory vehicles, this 1938 Chevrolet Coupe won the 2007 Peking to Paris 10,000 miles motor challenge organised by ERA.
Their fame was sealed when the great Juan Manuel Fangio kick started his career in a Chevrolet Coupe which, due to his success, became known forever more as the Chevy 'Fangio'. The Argentine went on to win the F1 World Championship five times.
Car History
- Classic Safari Challenge 2006 – 4,200 miles, 10th Overall
- Peking to Paris 2007 – 10,000 miles, 1st in Class, 1st Team Award, 1st Overall
- Vintage Cape Horn 2013 – 3,800 miles, 20th Overall
- Alpine Trail 2014 – 700 miles, 4th Overall
Group C
Group C was a category of motorsport, introduced by the FIA in 1982 for sports car racing, along with Group A for touring cars and Group B for GTs.
It was designed to replace both Group 5 Special Production Cars (closed top touring prototypes like Porsche 935) and Group 6 Two Seater Racing Cars (open-top sportscar prototypes like Porsche 936).
Group C was used in the FIA's World Endurance Championship (1982–1985), World Sports-Prototype Championship (1986–1990), World Sportscar Championship (1991–1992) and in the European Endurance Championship (1983 only). It was also used for other sports car racing series around the globe (All Japan Sports Prototype Championship, Supercup, Interserie). The final year for the class came in 1993.
It represented a golden period of motorsport in sports car racing that rivaled F1 and was heavily supported by manufacturers. In fact those that remember being involved or seeing the races in period still talk about the cars and races with great affection today.
The Group C series is promoted by Peter Auto and forms a 5 race Championship across Europe including the LE MANS Classic.
Celtic Speed Group C Cars
Spice SE86 001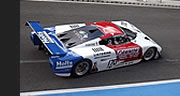 Click here to read more about the Spice SE86 001 Spice Pontiac Fiero, alternatively download the PDF (above) or the history PDF below.
Read more information about the history of the Spice SE86 001 Spice Pontiac Fiero, the very first all Spice Group C Car.
Porsche 962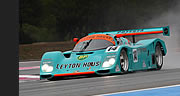 Click here to visit our Porsche 962 Group C Series page.
The Porsche 962 was built as a successor to the infamous 956, these Group C cars have arguably the longest frontline international careers in motorsport history.
Masters F1
The FIA Masters Historic Formula One Championship is the ultimate place for Formula One cars of a golden age.
Catering for 3-litre engined Formula One cars from 1966 through to 1985, FIA Masters Historic Formula One takes us back to an era in which Cosworth DFV power and a creative car designer could win races, long before wind tunnels and energy drinks were created! With a year-based class structure based around the iconic F1 drivers names of Stewart, Fittipaldi, Lauda and Head, the aim is to give all entrants someone to race against.
The FIA Masters Historic Formula One Championship is an emotive category in which cars must run in their period livery, delivering a superb spectacle of sight and sound.
Celtic Speed F1 Cars
1976 Ford/Cosworth-powered March 761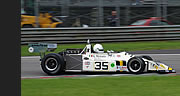 The 1976 Ford/Cosworth-powered March 761 sat on pole position once and even had one fastest lap during its grand prix career in 1976 driven by Italian Arturo Merzario.
The March F1 cars have a specific Scottish connection. In 1970 — coincidentally on March 22 — Formula One world champion Jackie Stewart gave the March team it's first victory when he won the non-championship Race of Champions from pole position. A month later, Stewart won the Spanish Grand Prix.
See F1 Historics race dates and more information on the March 761 (PDF).
1982 Williams FW08-1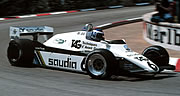 1982 Williams FW08-1 driven by Keke Rosberg who won the 1982 drivers championship. Designed by Patrick Head it debuted at the 1982 Belgian F1 held at the Zolder circuit. The FW08-1 is an evolution of the FW07 that it replaced.

More information on the 1982 Williams FW08-1 (PDF)
Recent Highlights
Featured in F1 Support Races at;
- Singapore 2014
- Austin 2015, 2016, 2019
- Mexico 2015, 2016
- Suzuka 2017
- Silverstone 2019
Masters FIA Historic F1 Championship 2014, 2015, 2016, 2017, 2019
Goodwood 2016, 2019
2009 Oreca LMPC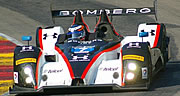 Derived from the Courage LC75 chassis, and used predominantly as a cost capped chassis in IMSA and the Le Mans series, the Oreca FLM 09 proved to be a mainstay in multi class sportscar racing from 2009 to 2017, finishing its final season in IMSA competition in 2017 at Petit Le Mans.

More information on the 2009 Oreca LMPC (PDF)
From 2018 Celtic Speed competed with the car in the Historic Masters Endurance Legends Series.
The Celtic Speed Mini Cooper Cup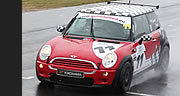 Once again the championship has attracted a bumper grid of drivers, ranging from complete novices to seasoned racers. Not only are the races incredibly exciting to watch and be a part of, but they are also fiercely competitive.
Click here to visit our Mini Cooper Cup page. Full information on the Celtic Speed Scottish Mini Cooper Cup can be found at the official SMRC website.