Butcher Re-signs for TGR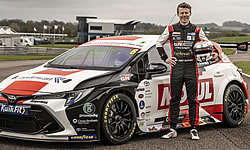 Having enjoyed my first full season as a British Touring Car Championship driver in 2018, my ultimate goal was to progress up the pecking order and challenge for the overall Drivers Title in the most competitive and high profile racing series in the UK.

Four years later, I have made significant steps closer to my goal, cementing myself as one of the top competitors in the BTCC, scoring numerous pole positions; including 20 podium finishes, 9 of which were victories.

It's crucial that I continue to develop and progress year on year. The only way to do this in a series as competitive as the BTCC is to gain the support of a manufacturer. In 2021, I took a monumental step in my career as I joined Toyota Gazoo Racing UK (TGR), stepping behind the wheel of the Toyota Corolla with Toyota backing.

Having re-signed for TGR in 2022, I'm hugely excited to have the continuity of driving the same car with the same group of people around me.

The hard work now starts in order to build on everything that we have achieved and learned as a team and our focus is firmly on fighting for the overall championship in 2022.

The BTCC requires a unique craft and with another year of experience under my belt and the support of Toyota, I'm excited about what the future holds.