Rory Butcher embarks on his second full season in the BTCC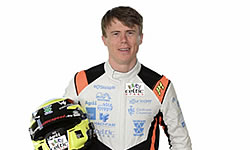 Rory Butcher embarks on his second full season in the BTCC having agreed a deal to remain with Cobra Sport MD with AutoAid/RCIB Racing for the 2019 campaign.
Having followed the single-seater route in the early stages of his career, Rory moved into sportcars in 2010, finishing second in the GT4 class of the British GT Championship and also making his first foray into the BTCC-support Porsche Carrera Cup with the Celtic Speed team.
Three seasons in the Porsche series saw Rory secure multiple race wins and a best finish of third in the championship standings before he made the decision to make a return to GT competition.
Alongside wins in the British GT Championship, Rory also competed in the European Le Mans Series and Blancpain Endurance Series , whilst heading Stateside to compete in the prestigious Rolex 24 at Daytona.
The highlight came in 2016, when three wins in the ELMS saw Rory take second in the GTE class in the Ferrari 458 of JMW Motorsport.
Set to focus on sportscar racing again in 2017, Rory received an unexpected chance to move into the BTCC with the Motorbase Performance team mid-season and quickly got up to speed with a front-wheel drive touring car – scoring two top ten finishes on his debut.
Having been a regular contender for points in 2018 at the wheel of one of AmD's MG6 GTs, Rory will now seek to fight for podium finishes and race wins at the wheel of the Honda during the year ahead.