Celtic Speed to Return to Daytona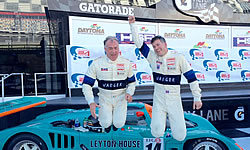 Celtic Speed will return to Daytona in November with an expanded 2 car team in the Classic Daytona 24 hour event.
The prestigious end of season event which is in its 4th running is proving to be one of the big events on the Historic Motorsport calendar and Celtic Speed has enjoyed great success in this race with their Leyton House liveried Porsche 962. The car, driven by Tommy Dreelan and Aaron Scott has won the race twice in 2014 and 2017. Group C cars are a fan favourite at this event and the sight and sounds of these cars, which are a big part of the history of the Daytona 24 hour event, is amazing as the cars reach speeds of 200mph on the banking.
Celtic Speed is taking a 2nd car, the LMPC prototype which raced in the main event, the Rolex 24 hour only 2 seasons ago but is now a leading entry in the European Masters Legends series and should feature toward the front of the Group E grid in November. The prototype race sees a host of exotic machinery and some familiar name drivers also taking part and is sure to be hotly contested. Whilst the LMPC car has less downforce and power than the bigger LMP1 machinery, Aaron thinks that he and Tommy will be competitive.
"I am really excited to be heading back to America with Tommy this season, the prototype race was hotly contested last year and I think we can be up amongst the sharp end of the grid. The Group C is just an incredible car and I love driving it, hopefully, we can keep our winning streak with the car!"
The team will then take the LMPC car to the final event of the 2018 season at Sebring in Florida to tackle another iconic track for the Classic 12 hour event. This will be the first time for the duo at this track, the track is notoriously bumpy but is sure to be an exciting way to close the season.
As ever Celtic Speed will be hoping for something to celebrate in the USA at these races. See you there!